$1,450,000
Motor vehicle accident. Plaintiff sustained a brain injury.
$908,997
Plaintiff motor vehicle side-swiped by tractor trailer forcing Plaintiff vehicle off the road.
$650,000
Defendant motor vehicle went through stop sign.
$625,000
Plaintiff motor vehicle rear-ended by defendant vehicle.
$501,000
Plaintiff in backyard of friend and burned after fire ignited from firepit.
$400,000
Defendant vehicle went through red light striking Plaintiff vehicle in side.
Free Case Evaluation 24/7
Our personal injury and criminal defense attorneys take the time to listen to your concerns and address your needs.
Why Choose Our Law Firm?
Serving New Jersey & New York Since 1988
Our personal injury and criminal defense attorneys take the time to listen to your concerns and address your needs.
Free Case Evaluation 24/7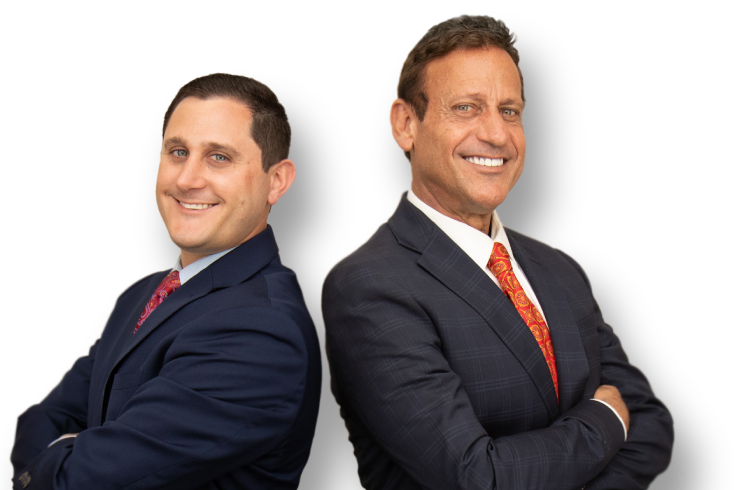 Why Should I Hire a Lawyer?
Legal issues may become a reality for anyone at any time. This is especially true in our society today because a lawsuit, misunderstanding, criminal charge, bankruptcy, family issue, or injury could derail what was an otherwise promising future. Everyone deserves vigorous representation, and it will help to speak to a lawyer as soon as possible.
Because every legal case is different, it helps to consult with a lawyer before the case becomes overwhelming. Even if the client is not sure they may require legal assistance, they should consult with a lawyer who can shed light on the issue, and the client can learn about possible legal options. Although legal problems can be challenging, it is important to remain calm and work with a legal expert. Clients should allow the lawyer to handle the case and explain the most appropriate course of action, regardless of the situation.
When Should a Lawyer Be Hired?
It is best to hire a lawyer as soon as possible. Waiting to hire a lawyer can cause a case to be delayed. For example, someone involved in a personal injury case will miss the deadline for the statute of limitations if they wait to hire a lawyer. Bankruptcies must be filed as soon as possible because aggressive creditors may file suits against the debtor.
A defective product case becomes more difficult to prove if the evidence has grown stale after the victim waited a long time to file. The same is true of construction accidents, as all the tools or machines involved could be returned, destroyed, or sold. The building site will be completed in the interim, and the lawyer may not have the access they need to complete an investigation.
Clients should call for help as soon as possible to explain what happened, share any information that is available, and allow the lawyer to do the rest. For example, someone who was hurt when slipping on a wet floor in an office building should not wait before hiring a lawyer. The two-year statute of limitations will expire, and there is nothing the lawyer can do. Clients have six years to file contract disputes regarding real estate, two years for wrongful death cases, two years for mass torts, and two years for Workers' Compensation claims against insurance companies.
It is important to remember that consulting with a lawyer can offer clarity that clients might not have had in the past. A client who is unsure of the nature of their case should consult with a lawyer to learn more. The case may not have much merit, or the case may be even more troubling than the client believed.
Availability of a Lawyer
Focus and availability are the hallmarks of any quality law firm. A lawyer should be focused on their client's needs and be available for phone calls, video conferences, and emails. Additionally, a lawyer should offer progress reports as the case develops. When someone reaches out for help, they can continue to ask questions to understand their legal options. Many clients are upset that they do not know what to say or how the process should be handled. They should allow a lawyer to do all the work on the case. If a lawyer needs information, they can request that information at any time.
A lawyer should also complete a full investigation of the case and explain any new information. The family, for example, might not realize that their deceased loved one played a part in their fatal accident. The family might not have been told that their deceased loved one is covered under a special federal law providing compensation to injured longshoremen, or they might learn of other troubling circumstances that played a part in the case. Likewise, someone charged with a crime must be aware of all the information that will be used to decide their case, and this information can also be used when settling a case out of court.
Clients should reach out to a law firm as soon as possible to learn more about the specifics of the case. These cases can become complicated, and families, victims, or the accused should not attempt to investigate these cases alone. Additionally, the client should continue to send new information to their lawyer on request or when new information becomes available. Working with a lawyer helps build a more compelling case that the client can present in court, if necessary.
Choosing the Right Lawyer
It is important to choose a lawyer who works with a firm committed to diversity. There is likely a lawyer who is perfect for the family or accused because that lawyer understands the specific situation in which those clients find themselves. A lawyer should express compassion for the victims, their families, or even the accused. Clients deserve to know that their lawyer is in their corner. A client also has the right to speak to someone with whom they feel comfortable. When the client is comfortable with their lawyer, they are more likely to be forthcoming. That comfort is built through professionalism and a willingness to listen to anyone who requires legal assistance.
A law firm should also offer a level of affordability that makes their services seem accessible. Many people do not hire a lawyer because they are concerned they will not be able to pay the legal fees. This situation can be avoided by choosing a law firm that offers flexible options and rates for all clients. Clients can review lawyers online, ask for references, and check out their accolades. It helps to know that a lawyer has the best intentions and a track record of success. Clients are well within their rights to fire their current lawyer and hire another at any time.
Injuries from a Defective Product
When someone has been injured by a defective product, the manufacturer of that product should be held accountable for any injuries that occur. The victim might miss work, be disfigured, or suffer from a disability or fatal injuries. The manufacturer can be investigated and sued for negligence, and the company that made the faulty part can also be held accountable. Lawyers will investigate the case thoroughly to determine who played a part in the accident.
No matter the severity of the injury, a lawyer must be brought onto the case. This is important because even a minor injury can destroy any trust the client might have had when using that product. In a worst-case scenario, the victim could be killed. The family would require compensation for such an accident. In products liability cases, several companies could be involved.
Handling Mass Torts
Mass torts are used to bring several plaintiffs together under one lawsuit to ensure that everyone can be compensated. Although plaintiffs may not know the terminology, they will benefit from this type of suit because it helps everyone who was affected become involved in the case. If a company or defendant goes bankrupt after the first lawsuit, others who have sued cannot receive compensation. By joining plaintiffs together, a mass tort can help everyone receive some form of compensation instead of allowing a singular lawsuit to wipe out the funds needed for every other victim. Common examples of cases that may require a mass tort include the following issues:
Exposure to toxic substances: Asbestos exposure can be paid for through a trust set up when companies go bankrupt. If that company is still operating, they can be sued through a mass tort. The same is true of exposure to toxic substances when employees were not aware that they had been exposed.
Defective medical devices: If a defective medical device is used to provide treatment, any injuries or extra treatments that arise should be covered under a mass tort.
Ineffective or dangerous pharmaceuticals: Pharmaceuticals that cause previously undisclosed side effects may require a mass tort.
Product defects: A defective product that injured a large group of people should be investigated. A mass tort can be used to file suit against researchers who may have covered up any potential risks.
Mass torts are meant to help as many people as possible. In the event of a single instance of negligence on behalf of a corporation, the client may file a personal injury lawsuit against all responsible parties.
Real Estate Law Assistance
Real estate transactions often become complicated when the deal falls through, contracts are breached, or the home has not been sold as advertised. Residential home sales could go to court or require a settlement, and certain buyers or sellers may need protection when the other party in the deal believes they must file suit over the matter.
Commercial building projects involve massive loans, large construction companies, and parties that want to see the projects completed as quickly as possible. When a commercial facility is sold, the deal may require assistance from a lawyer. The contract is usually so complex that it should be written by a lawyer, and the closing should be attended by a lawyer who can protect the interests of the buyer or seller.
Land usage or zoning issues may arise when a company wishes to expand its operations or build on a particular site. A lawyer may need to argue on behalf of the zoning commission, or a contract may need to be written with stipulations that allow for certain types of usage. Working with a New Jersey law firm ensures that the process is completed in a timely manner while benefiting all parties.
Construction Accidents
Scaffolding and construction accidents are paid for through Workers' Compensation when the worker is eligible for coverage. Exempt employees, such as executives and independent contractors or cleaners, may be eligible to file suit against the employer for their negligence after an accident on a construction site. Innocent bystanders and pedestrians who are injured because of construction debris may also file a claim against the construction company after an accident.
The company that supplied the scaffolding may also be held liable if their product was faulty. Construction accidents may also include faulty construction equipment; the manufacturer of these machines will be held liable for their negligence, or the company that manufactured the faulty parts that caused the accident will be held accountable for injuries or deaths that occurred.
Injured workers should speak to an experienced law firm when a compensable accident has occurred. Employees who are covered under Workers' Compensation insurance should also have a lawyer ensure that their insurance coverage is handled properly.
Workers' Compensation
When a worker has been hurt on the job, they may be covered by Workers' Compensation insurance. These policies are intended for non-exempt employees who have a traditional employer-employee relationship with the company. The Workers' Compensation insurance plan will not cover independent contractors or salaried employees. Workers' Compensation claims are handled by insurance companies, not the employer.
If the company does not allow reporting of compensable injuries, a lawyer should get involved. Injured employees should allow a law firm to review the circumstances of the accident and/or the denial. If an exempt employee was injured on the job, they may file suit against the company for their injuries on the job or in the facility. In most cases, a lawyer must fight the insurance company for the worker's coverage. Insurance companies can be made to provide coverage that should have been allowed initially. Otherwise, a lawyer may file a claim against the insurance company for damages caused by the insurance company's inaction up to and including an injured worker's death because they did not receive the appropriate coverage.
The No-Fee Guarantee for Injuries
The no-fee guarantee ensures that injury victims do not pay until their case has been won. The lawyer who handles the case will request legal fees as part of any judgment or settlement, and these fees will be paid when the money comes through after the case is closed.
Distressed families may not have the money needed to retain a lawyer, and they deserve to know that someone can help them. The no-fee guarantee ensures that these families or victims can consult with a lawyer, file suit if necessary, and move on when the case has been settled or ended in a judgment.
Criminal Defense Services
Everyone deserves a vigorous defense against all criminal charges. Someone who has been charged usually does not have the capacity to represent themselves, and some courts may not allow defendants to represent themselves because that could delay the case. A lawyer can investigate the case independently to determine how they can cast reasonable doubt on the prosecution's case. Anyone who has been charged with a crime should contact a lawyer as soon as possible. If the public defender or another lawyer is not doing a good job, the defendant can fire their lawyer and find new representation.
New Jersey Personal Injury Lawyers at Ellis Law Offer a Range of Legal Services
Speak to a New Jersey personal injury lawyer at Ellis Law if you have been hurt, need family law assistance, or require criminal defense services. We take the time to listen to your concerns and address your needs. Call us at 732-308-0200 or contact us online for a free consultation. Located in Freehold, New Jersey, we serve clients throughout East Brunswick, Toms River, Middletown, Jersey City, Neptune, Hudson County, Union County, Essex County, and Ocean County, as well as Brooklyn and New York, New York.
We devote ourselves to our clients and benefit them in many ways, including:
Availability
We are available to take your call 24 hours a day, seven days a week. Your legal issues can arise at any time. We will be there when you need us.
Diversity
Our New Jersey and New York attorneys speak Spanish, Yiddish, Hebrew Russian and Portuguese.
Compassion
Our lawyers understand the difficulty of being injured or charged with a crime. We truly care about our clients and strive to form lifelong bonds with each person that walks through our door.
Focus
We concentrate our practice on the areas of personal injury and criminal law. This focus gives us an extensive understanding of these special areas and the laws associated with them.
Affordability
At Ellis Law, we offer free initial consultations in order to save you money.
What our clients are saying about Ellis Law
Client Reviews
Aug 2, 2021
Herbert Ellis and his team were extremely helpful throughout my legal process. Not only were they attentive and professional, but Herbert and team take the extra step to make you feel comfortable and secure under their guidance.

I absolutely recommend this firm to anyone who is seeking reliable and trustworthy legal advice. They are a great team and I am very thankful for their services!
Jul 29, 2021
BEST BEST BEST !! I didn't have to worry about a thing at all. He knew the task & handled it no questions ask. Best lawyer ever !
Jul 20, 2021
Amazing work! Helped me out so much when I didn't know where to go! I would recommend you guys to anyone!!!
Jun 3, 2021
Highly recommend to use Ellis Law firm! Very professional, caring, honest, and masterful attorney.
May 26, 2021
I would like to thank Mr. Ellis and his attorney team for all the hard work, throughout the whole process they kept me updated and treated me like their family. Mr. Ellis did not give up on my case and got the results we were looking for. I would give 10/10 for their amazing work.
No Fee


Guarantee For Injury Victims

Schedule an appointment for a free initial consultation with a lawyer at Ellis Law. We are available 24 hours a day, 7 days a week and you will always get your calls returned in a prompt and courteous manner.

Get Your Free Case Evaluation